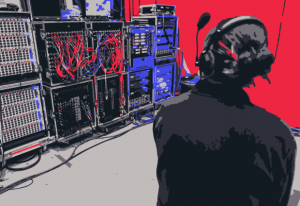 The Warehouse was founded in 1980 to provide hire, sales and operation of professional sound equipment in Scotland.
We have always believed that there is no substitute for trained staff with access to well maintained top quality equipment and it is this principle which has allowed us to grow to the organisation we are today.
We now offer Sound hire, Sound sales and Flightcase manufacture from our branches in Edinburgh and Glasgow.
We have a sound product portfolio and product knowledge that includes broadcast equipment and many of the highest quality brands available in the world today.
It is our decision to place specialists in each department, rather than having generic technicians working across multiple departments, which allows us to offer truly informed advice and support to our customers.
Opening Hours
Monday – Friday
09:30 – 13:00 and 14:00 – 17:30
Saturday
Sound Hire Only
10:00 – 13:00
Edinburgh
E-mail
Sound Hire: edhire@warehousesound.co.uk
Sound Sales: sales@warehousesound.co.uk
Justin Case: jic@warehousesound.co.uk
Telephone
Tel: 0131 555 6900
Fax: 0131 555 6901
Address
23 Water Street,
Leith,
Edinburgh,
EH6 6SU
[google-map-v3 shortcodeid="02fa16d059″ width="100%" height="400″ zoom="14″ maptype="roadmap" mapalign="center" directionhint="false" language="default" poweredby="false" maptypecontrol="true" pancontrol="true" zoomcontrol="true" scalecontrol="true" streetviewcontrol="true" scrollwheelcontrol="true" draggable="true" tiltfourtyfive="false" enablegeolocationmarker="false" enablemarkerclustering="false" addmarkermashup="false" addmarkermashupbubble="false" addmarkerlist="55.975337,-3.169568{}1-default.png{}The Warehouse Sound Services Ltd. Edinburgh" bubbleautopan="true" distanceunits="miles" showbike="false" showtraffic="false" showpanoramio="false"]
Glasgow
E-mail
Sound Hire: glhire@warehousesound.co.uk
Sound Sales: sales@warehousesound.co.uk
Telephone
Tel: 0141 445 4466
Fax: 0141 445 3636
Address
40 Carmichael Street,
Govan,
Glasgow,
G51 2QU
[google-map-v3 shortcodeid="2a968063c6″ width="100%" height="400″ zoom="14″ maptype="roadmap" mapalign="center" directionhint="false" language="default" poweredby="false" maptypecontrol="true" pancontrol="true" zoomcontrol="true" scalecontrol="true" streetviewcontrol="true" scrollwheelcontrol="true" draggable="true" tiltfourtyfive="false" enablegeolocationmarker="false" enablemarkerclustering="false" addmarkermashup="false" addmarkermashupbubble="false" addmarkerlist="55.855861,-4.301881{}1-default.png{}The Warehouse Sound Services Ltd. Glasgow" bubbleautopan="true" distanceunits="miles" showbike="false" showtraffic="false" showpanoramio="false"]